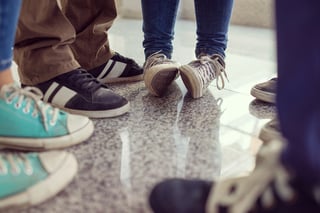 Now that schools back in session, it's important to make sure your kids have the proper footwear to last them through the school year. One of the most important back-to-school purchases you can make for your child is a pair of good quality, proper fitting shoes. Not all shoe styles and brands are created equal. Just because your child wears one size in a certain style or brand, does not mean that they wear that style in all styles and brands.
Fitting a shoe correctly to a foot may not be rocket science, but there are a few factors that need to be considered in the decision making process.
Measure Both Feet: Left and right feet are rarely the same size. You'll want to measure both feet and always shop for the bigger foot size.
Toe Test: While your child is standing with both feet on the ground, push your thumb down on the front end of the shoe. There should be a half inch or so of space between the tip of the shoe and the longest toe.
Ankle Assessment: Have your child sit with his or her feet dangling and gently pull the shoe down towards the floor. If the shoe slides down the heel, or comes off, then it's too big.
Walk & Watch: Your child should put on both shoes and walk around the store. Watch his or her feet closely as he walks: his gait should be natural and the shoes should not slip or gape away from the foot or ankle.
Omit Online Shopping: It's important for your child to try on the shoes and see what they feel like. If you shop online for better deals or a bigger selection, still go to the store and let your kid try on shoes. Measure his or her feet, do the toe test and the ankle assessment, and watch them walk around. Get an idea of how the different brands fit his feet and what size fits best, and then you can find a good deal online to purchase.
Kids grow fast and their shoe size can change as often as every few months. That is why it's important to assess how their shoes are fitting every once in a while. Shoes that do not fit properly will irritate the foot and can lead to foot and/or ankle problems.
If your child is experiencing pain or discomfort in the feet or ankles it's important to schedule an appointment with a foot specialist. Prolonging an appointment could lead to chronic pain and worse problems in the future.
To schedule an appointment with Sweeney Foot & Ankle, contact us today.