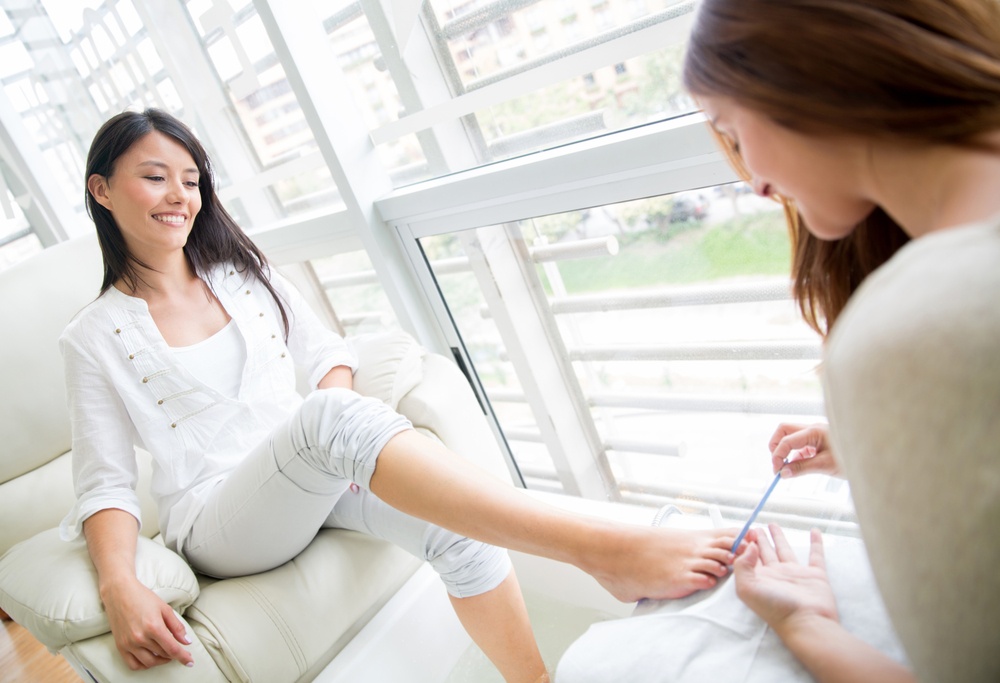 As the weather warms, the sandals and open shoes come out of hibernation. Feet and legs are on display. Many flock to their favorite salon for a pedicure. Before you schedule that pedicure appointment, you should know the downside of salon pedicures.
Modern salons are beautifully designed. With custom lighting, mirrors and elegant decor, it's easy to forget about the problems of the world and about safeguarding your health.

Salon pedicures can create the risk of fungal or viral infection in a number of ways. Every salon has thousands of clients and a multitude of ways for viruses and fungi to spread. Each year, thousands of people visit a foot specialist to treat infections contracted while getting a pedicure.


Beware of the bubbles.

Experts advise that you shouldn't allow your pedicurist to turn on the bubbles in the foot bath. The jets can be a breeding ground for bacteria and fungi. Activating the jets spreads the bacteria and fungi throughout the water, coating your skin and invading pores, cuts or scrapes.

Find a salon that uses pipeless foot baths or individual foot bath liners that are replaced between clients. These practices are more effective at preventing fungal or viral infections. Foot baths that use shared piping can carry bacteria and fungi from other clients while the bubbles soften skin and open pores.

Sterile tools are a must.

While it may seem impolite to ask about a salon's sterilization process, your health is at stake. Don't hesitate to ask about your salon's procedures. Metal tools must be sterilized between each client. You should find evidence of safe practices as you look around the salon. Metal tools may be soaking in a disinfectant. This disinfectant kills most bacteria that can lead to foot infection.

Some salons use UV lights to sanitize metal tools between clients. This UV sanitization process, if done properly, requires 6 hours to sterilize the tools for use with the next client, and it requires additional soaking and cleaning procedures. If a salon is only treating metal tools with UV for a few minutes between clients, use those pretty feet to run elsewhere. Tools not properly sterilized can transfer viruses, fungi and bacteria from old clients to new.

Wood and non-metal tools can't be reused.

While metal tools can be sterilized, non-metal tools are for one client only. Because they are more porous and absorbent, non-metal and wood tools can't be reused for other clients. These tools can't be effectively sterilized, and they create an ongoing risk of infection. Some salons provide clients with a set of non-metal tools for their exclusive use.

Just shaved your legs? Wait on that pedicure.